#16: The Secrets of Fat Loss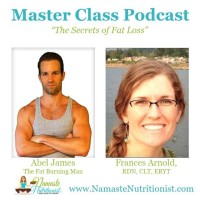 In this podcast interview that I recorded with the Fat Burning Man, we discuss his best tips for getting into top shape with nutrition and fitness.

How is inflammation keeping us fat?
How do low-fat diets promote failure?
How can we stay fit without a lot of time and effort?
Abel James, the Fat Burning Man, dishes his secrets of fat loss, which are about using ancient wisdom in modern day living. Abel's approach is something you'll seldom hear about in the mainstream nutrition world. It may just shift how you approach fat loss going forward.
Do you know someone struggling to lose weight? Share this podcast with them. You might just be helping save them from a lot of pain and struggle to achieve their desired weight.
BIO:
Abel James is a best-selling author, entrepreneur, musician, and host of the wildly-popular Fat-Burning Man Show.
As author of "The Wild Diet, " Abel brings ancestral, Paleo, and real food principles to the mainstream. Abel has conducted research studies, presentations, and speaking engagements for Fortune 500 companies, Ivy League Institutions, and the Federal Government.
Learn more about Abel James at www.FatBurningMan.com.
Podcast: Play in new window | Download