What's crazy about buying two pounds of organic strawberries for five bucks? Okay, obviously, the price. But what's crazy would be to buy the strawberries when bushels of them are oozing out of our garden beds.
Then why on earth did I buy any more berries? For one, these are premium, seasonal berries that are in their prime. Second, the cost is dirt cheap, compared to what I would pay for berries out of season. Even when buying frozen, these are still dirt cheap.
The next time you are at the store, why not buy double what you think your family will consume this week? Strawberries, blueberries, kiwis, cherries, bananas, mangoes, pineapple. Don't limit yourself.
First, Divide your bulk purchase into two portions. One portion is for enjoying this week. The other half is for freezing and enjoying a few months from now.
Second, remove the inedible parts – the stems, any pits or tough skin. Wash and slice the way that you would for serving.
Third, place in an airtight freezer bag. Label the bag and date. That's it! The next time you need fruit for smoothies, compotes, muffins, or other dishes, you'll have it right at hand.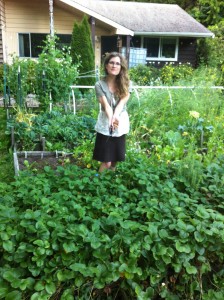 By taking advantage of low seasonal prices with fresh produce, you are doing the very thing that food manufacturers are doing with seasonal fruit. Only you are saving yourself money and time. I've been able to store my fruit for about 3 months this way with only mild traces of freezer burn. If you wish to use your frozen fruit in the winter time, adjust the timing when you purchase and freeze your fruit.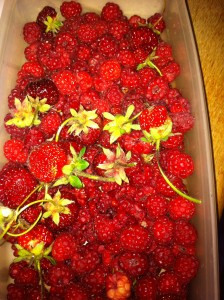 Summertime is when we can reasonably expect a boon of bargain bin prices on our favorite fruits. And, they taste much more alive because they are in season. They are fresher, which means you get more nutritional value for your buck.
So what will I do with all my extra strawberries? I'll probably freeze the ones I've purchased, if we don't eat them first. They've already found their way into a few veggie smoothies. We'll eat the garden strawberries shortly after they've been removed from their stem. They are irresistibly sweet and juicy!
Strawberry-Cucumber-Beet Smoothie:
Estimated prep time: 10 minutes
*You may need to adjust liquid somewhat to achieve a consistency you desire.
~ 2 cups clean leafy greens, such as chard or beet greens
~ 2 medium beets (scrub them well)
~ 7 large red berries (optional)
 ~ 1/3 cucumber, sliced
 ~ 1 inch unpeeled ginger
1/2 avocado
Juice of 1/2 lemon or lime
1/4 cup sunflower seeds
3-4 tbsp flaxseed oil
Water or almond milk, as needed
*** Substitute or omit any ingredient as needed! =-)
Directions:
Clean all ingredients. Quarter large pieces, such as beets and cucumber to make it gentler on your blender.
Add all items to blender.
Add water until blender is appx. 3/4 full with water or plant-based milk. You can start off with less water and gradually add more as you see fit (depending on the consistency you like).
Blend until smooth. It will vary, depending on the strength of your blender.
Now I want to hear from you. What fresh produce have you tried freezing? Can you offer any advice about smart storage and preventing freezer burn? Do you have fresh ideas for vegetable smoothies?
xoxo
Frances