Gut Bacteria Is Essential For Good Health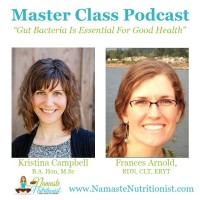 Intestinal bacteria is shattering its glass ceiling, representing enormous potential for scientific health breakthroughs. When you listen to this podcast, I believe you'll enjoy new respect and enthusiastic for bacteria and your gut. You'll learn why bacteria is so important for good health, how your gut contains an ecosystem of microbial life, and how you can encourage more of the good bacteria.
Kristina Campbell, "The Intestinal Gardener", is the guest expert in this podcast. She is known for her lively take on digestive health, having written for diverse publications. She'll bring us up to speed on what science has revealed about gut bacteria and its impact on our health, and how nutrition impacts this gut bacteria, and how they can enhance our immunity. Please listen and share this podcast episode!
Here are two suggestions for related topics I've written or podcasted:
From Kristina Campbell:
What is the microbiome and why is it such a big deal lately?When I refer to the microbiome, I mean the microorganisms and probiotics – bacteria and fungi, as well as archaea – that live in and around my body.
Recently it became economical for scientists to access to new DNA sequencing techniques that rapidly allow them to find out the names of all the bacteria living in a certain place. This has opened up a whole world that was literally invisible to us before. Of all the bacteria in and on the body, what's special about the bacteria in the digestive tract?
I see the digestive tract (also referred to as the "gut") as the elemental site of connection between us and our environment. Bacteria helps turn our food into us. Research is starting to show that the functioning of both the immune system and the enteric (digestive) nervous system may be intimately related to gut bacteria.So what has science revealed already about gut bacteria and health?Right now, we have a lot of descriptive studies: for example, I've seen studies that give a pie chart of the kinds of bacteria inside the gut of adults on an agrarian diet versus a diet rich in animal protein. We're only beginning to address the issue of what causes what.How has this science changed the way we think about nutrition?
(1) Nutrition is more complex than input/outputThis is a pretty radical idea: that piece of watermelon doesn't "contain" 12 mg of Vitamin C and 4.5 mcg of folate that your body automatically gets when you consume it. The Vitamin C and folate go into your body, and then your gut bacteria help you harvest part or all of it.
(2) Improving nutritional status may require more strategy than previously thoughtResearch out of the Gordon lab found that providing the "right" vitamins doesn't always prevent malnutrition. That might mean getting rid of a pathogen and creating a mix of gut bacteria that allows your body to absorb the vitamins properly.How has this science changed the way we think about immunity?
(1) The immune system is best thought of as an ecosystemThere's a shift toward an "ecological theory" of immunity where many factors interact to maintain health. Having healthy gut bacteria may actually prevent you from getting sick when you encounter a pathogen (unfriendly germ).
(2) Being a "clean freak" is not the way to achieve the best immunityMicrobe research has helped us understand the "hygiene hypothesis" – the idea that a lack of exposure to microbes as a child suppresses the natural development of the immune system. Because the microbes we encounter help educate our immune system about what's harmless and what's harmful. Rob Dunn has done some great work on the microbial environment in people's homes. A diverse bunch of microbes in a home is good.
How can we use this information practically?
(1) I eat live foods that make me feel good
By "live foods", I mean foods that purposely contain good bacteria and fermented foods. Not every food is a good fit with your body's ecology at a given point in time, so if you eat something that makes you shudder, try something else.
(2) I am aware of my internal ecology when I'm healthy, not just when I'm sick
I watch my body for signals that my gut ecology is different than usual and that I may be more susceptible to getting sick.
(3) I'm kind to bacteria when I speak about them
I think this is so important because language can shape our views of the world in profound ways. I try to talk about bacteria in neutral or positive terms whenever possible, rather than using words like "disgusting".
What might the future bring when it comes to gut bacteria and health?
(1) Mainstream medicine will take dietary interventions seriously
Historically, there hasn't been the scientific evidence to justify a dietary change instead of (or in addition to) a pharmaceutical to prevent or treat a disease. And now, through studying the gut microbiota, that connection will be made.
Speaking of which, Table 2 in this article* (aimed at gastroenterologists) lists different brands of yogurt, the bacterial strains they contain, and the evidence for using them to treat different conditions.
(2) In the gut, scientists will identify early biomarkers of disease states
Labs are working on finding out the molecular changes in the gut that may lead to the development of type 2 diabetes, type 1 diabetes, some forms of cancer, celiac disease, IBDs and others. If we could detect these things earlier, maybe we could intervene in time to prevent these diseases.
(3) Antibiotics will be used MUCH more judiciously
We've heard about the dangers of overusing antibiotics for ages, because they cause drug resistant bacteria. Now there's a very personal reason to avoid unnecessary antibiotics: they might disrupt our gut flora in ways that are long-term or even permanent.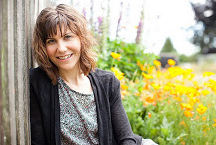 Kristina Campbell, "The Intestinal Gardener", has become known for her lively take on digestive health, having written for diverse publications such as alive magazine, The Georgia Straight, and The Globe and Mail. Campbell blogs about the science of gut bacteria at http://intestinalgardener.blogspot.ca/ and tweets using the handle @bykriscampbell. Her 40,000 blog readers include scientists in the Research Blogging network, digestive disease sufferers, and people around the globe interested in cutting-edge science. She is actively connected with experts and support groups dedicated to gut health, and believes that stories are powerful tools for communicating about wellness.
Campbell has lived and worked in Canada and the U.K., and has completed degrees at the University of Toronto (B.A. Hon) and the University of British Columbia (M.Sc.). She researched the bilingual brain and worked as a communication clinician before training to be a journalist. Her own digestion problems first led her to investigate the science of gut bacteria and its direct implications for health. Campbell now watches over her own intestinal garden, and that of her 1-year-old daughter, in Vancouver, Canada.
http://intestinalgardener.blogspot.ca/
http://www.blogger.com/profile/09830306218018477360
@bykriscampbell
Podcast: Play in new window | Download