Easy Raspberry Teff Muffins: High Protein, Gluten-Free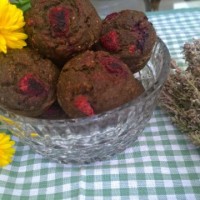 These muffins pack a lot of protein, omega-3, fiber and flavor.
Bake them up for a party, for Sunday brunch, or for school/work snacks. They will store about 3-4 days at room temperature, and they also freeze well.
Raspberry Teff Muffin Recipe
Yield: 12 medium muffins
Dry Ingredients:
2 cups teff flour
1/2 cup tapioca flour (or sub. with arrowroot powder)
2 tsp baking powder
1/2 tsp salt
1/2 tsp baking soda
1 cup raspberries (you can substitute with blackberry, blueberry, chopped strawberry…)
Wet Ingredients:
2 tbsp ground chia seeds (I use a coffee grinder that is designated only for spices and chia, not coffee)
2 large eggs
1/2 cup sugar (try coconut or date sugar)
1/2 cup applesauce, unsweetened
1/4 cup melted coconut oil, ghee or avocado oil
1 cup milk
1/4 cup hot water
2 tsp orange or lemon zest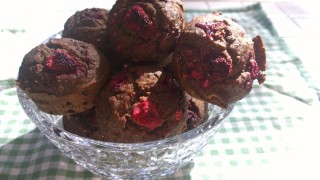 Instructions:
Preheat oven to 350 degrees F. Grease a 12-cup muffin pan.
Whisk together dry ingredients in a large bowl.
In a medium bowl: 

Combine ground chia with hot water and quickly whisk. A thick slurry will form.
Add sugar, applesauce, oil, milk, and orange zest. Whisk together.
Whisk eggs into this mixture.

Combine wet ingredients into the dry ingredients and stir well. Fold in the raspberries.
Scoop batter into your prepared muffin pan, filling each cup 3/4 of the way. If you have leftover batter, distribute it among the remaining muffin cups.
Bake for about 30 minutes. They are complete when you can insert a knife into the muffin and it comes out clean.
Remove from muffin tin and cool on a wire rack.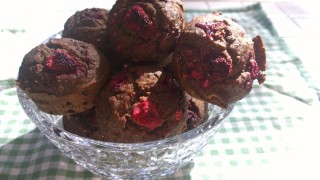 Now, I'd LOVE to hear from you!
Do you think you'll try these muffins for a casual healthy treat or for a special event? Tell me in the comments below!
Learn how this little grain (teff) is incredibly good for your health here.