Best Ever Kale Salad Recipe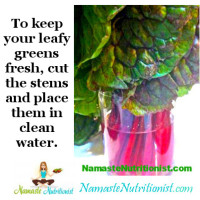 Kids who are involved in making vegetable dishes are more likely to eat them.
This massaged kale salad recipe is a winner for kids who love to get their hands into things and play with their food.
It's no wonder that kale is taking a central place on American plates, now.

Kale is hailed as a superfood. It is associated with improving skin appearance, eye health, bone health and fighting cancer. As part of of the Brassica family, it helps the liver in detoxification.
It's high in carotenoids, which lower the risk of many cancers, including lung, esophageal, mouth, pharynx and bladder cancer.
It is a rich source of iron, calcium, B-vitamins, fiber and health-protective phytochemicals. Doesn't it taste good just hearing about the benefits?
Just be sure that you are serving it from organic farms, as kale is now a highly sprayed crop.
Serve the massaged kale salad with herbed grains, like couscous or quinoa.Check out the herbed quinoa recipe here that I served at my wedding reception.
 Massaged Kale Salad
NOTE: Massaging the kale with salt and acid is what tenderizes the leaves so that they are enjoyable to eat. Otherwise, raw kale is quite fibrous.
Serves 4 people
1 large bunch kale, washed
1 tsp sea salt
2 Tbsp olive oil or toasted sesame oil
2 Tbsp seasoned rice vinegar or lemon juice
1/3 cup sesame seeds or walnuts
1/4 cup chopped green or red onion
1/3 cup dried cranberries (or other dried fruit)
1 small or half of a large apple, diced
1/3 cup crumbled feta or blue cheese
Instructions:
Remove the kale leaves from the stems by tearing them off from the bottom to top. Place leaves in bowl.
Add the oil and salt. Rub it into the leaves gently. This tenderizes them
Add vinegar or lemon juice. Toss to distribute.
Add the rest of the ingredients. Toss again.
Adjust seasonings as needed. Give THANKS!
There are SO MANY yummy kale recipes. How do you like serving it?