Speaking
Your company is losing profits when your employees aren't healthy. Health = Profits.
I help companies increase profits. How? By helping your employees improve their performance, reduce their sick days, and reduce burnout. I help them engage their health differently and intelligently.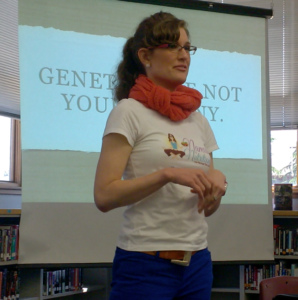 I can help your company's employees achieve the following:
Feed their brains for smarter performance and productivity;
Easily reduce their physiological stress so that they handle work and life more effectively;
Strategize concrete steps to embrace a healthier lifestyle.
Invite me to present to your company and help strengthen your profits by improving employee health:
I fully customize each program to incorporate your company mission and values.
I take the time to uncover, and address the challenges of your company and its employees, helping create solutions that work for your unique needs.
I help your employees take responsibility for their health and well-being, and increase their motivation to take action.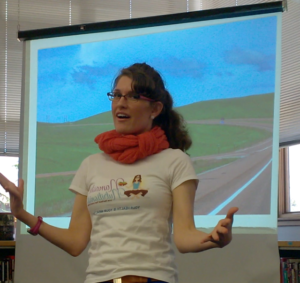 The presentation that you ask me to present will be customized to your specific audience.
Here are some topics I offer that other audiences have loved:
Brain Food: Improve your professional performance through what's on your plate. It will boost your personal life too!
How to escape the stress trap
Food, energy and mood: the secrets to being amazing at work and in life.
Sleep, An Essential Nutrient: How to improve it for life
Mindful eating: a joyful approach to nourishing your body, mind and life
Put out the fire: anti-inflammatory nutrition
Detoxify your life: why and how to clean out your body, home, and life for optimal wellness
Reasons you aren't losing weight (and what to do about it)
Your genes are not your destiny. How to change your genetic outcomes with small choices
What are the participants saying?
"I just wanted to let you know that [Frances] did a wonderful job. I was out of town but have only heard glowing remarks. She researched our company vision and tied that in with her presentation & stayed on topic. We would highly recommend her for future meetings." Health & Wellness Plan Manager, Weyerhaeuser Company
"Love how you tied your presentation to our company vision. Well done, excellent information! Engaging speaker." Amber
"Frances was amazing! Best presentation for the NSDA so far."
---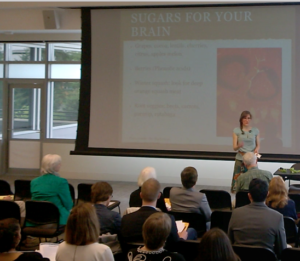 Tell me about your event by answering a few questions here.
After I receive your questions, I will contact you.
Email: Info@NamasteNutritionist.com
Phone: 206.486.5108
What are the participants saying?
"Thanks for tying the presentation into the Weyerhaeuser vision." – Allie
"Love how you tied your presentation to our company vision. Well done, excellent information! Engaging speaker." – Amber
"Very helpful and easy to follow. Very motivating- great job!" – Jasmine
"Thank you for offering this! Lots of good ideas and nudges to keep moving!" – George
"Very interesting information. Speaker was knowledgeable on the subject and able to answer questions effectively… I learned several new things about diet and nutrition." – Kim P.
"Super good material to present to anyone. Speaker very well-versed in her subject, which came out in answers to questions." – Brandon Kendall
"Information I can use on a daily basis to improve health." – Robert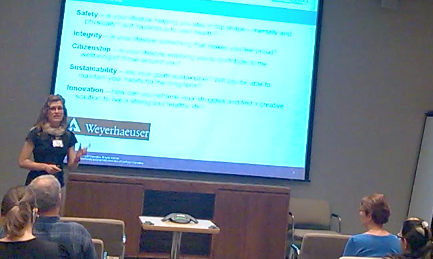 Ten ways to escape the stress trap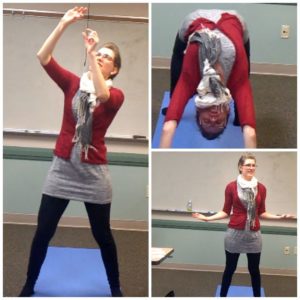 Food Sensitivities, Food Allergies, & What You Need To Know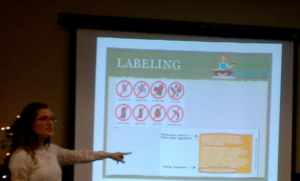 "Frances was amazing! Best presentation for the NSDA so far."
"Frances is very passionate and a wonderful presenter!"
"Frances was a great speaker, this is a great topic, I really enjoyed it!"
"I appreciate receiving this detailed information on various types of food sensitivities, symptoms, testing methods, and current research."
"Frances included so much information in her presentation that I will use in my practice."
"It's exciting that there are professionals who know about treating food sensitive patients!!!"
---
"The Orthorexic-Anorexic Dietitian", my Stand-up Comedy Routine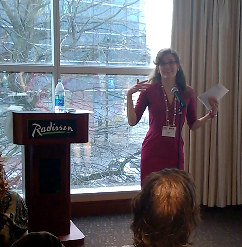 ---
Angelique Kidjo with me, after presenting at a United Nations Youth Summit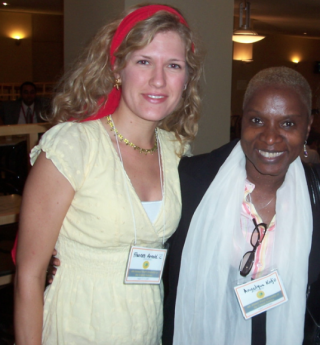 ---
Some of the places where I've presented:
The Greater Seattle Dietetic Association (GSDA) – January 2015 – 1 CEU approved
Dietitian Central (Webinar with 88 attendees) – January 2015 – 2 CEUs approved
The North Sound Dietetic Association (NSDA) – December 2014 – 2 CEUs approved
The United Nations (UN) Youth Leadership Summit, representing the International Association of Human Values (IAHV)
Toastmaster's International Regional Conference – May 2014
Weyerhauser – August 2014
Sound Health Physicians – 2013-2014
The Inter-Tribal Council Annual Convention, Sparks, NV
Reggae in the Park Festival, Reno, NV
My Mentors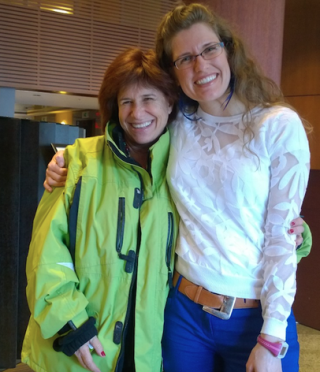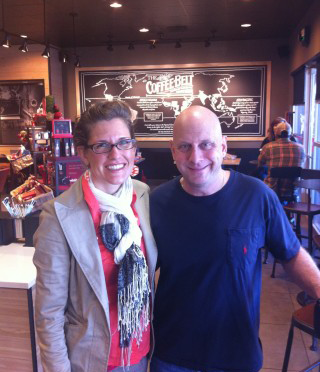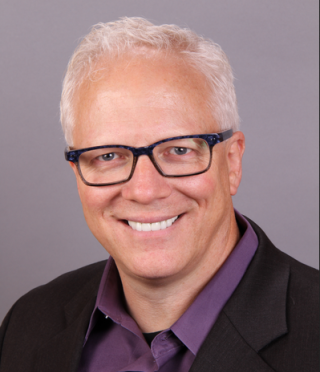 Phone: 206.486.5108
Support [at] namastenutritionist [dot] com