Gluten-Free Sourdough Teff Bread Recipe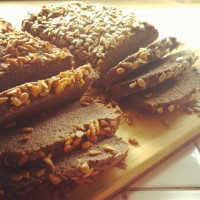 Sourdough bread is something many people lament missing in their gluten-free lifestyle.
I get it. In my teens, I could live on sourdough bread, dunked in olive oil, garlic powder, and balsamic vinegar.
Recently, my friend Rose turned me on to making sourdough gluten-free bread. Since I loooove sourdough, and haven't been able to eat it since going gluten-free years ago, baking sourdough bread is something I could get excited about!
---
One problem: baking hasn't been my thing for a long time.
Don't get me wrong – I enjoy the results of someone else's baking. And when I was a kid, I loved making cookies. No-bake cookies, that is.
But one taste of Rose's gluten-free sourdough bread and I was hooked. Okay, what do I have to do to get me more of this?
And the motivation to bake was thus born in me.
This recipe is truly much easier than I imagined. Still, I did run a mental rehearsal several times, just to be sure I could handle all the steps without royally screwing up.
Essential tip: assemble all your gear and ingredients before you start.
---
No kneading required!
Several people asked for this recipe when I shared the photos on social media. Honestly, it's much easier than I expected. You can mix the batch in a food processor, in a Ninja, in a bread mixer, or by hand. Very simple.
---
I find that sourdough bread is so flavorful and tangy, it is easy to reduce salt at a meal.
---
---
This recipe is inspired by and adapted from the cookbook Nourishing Meals: Healthy Gluten-Free Recipes for the Whole Family. Without Alissa Segersten's culinary genius, this wonderful recipe would not be possible. While recipes are not currently copyrightable, I believe it is important to give credit. I heartily recommend every book by Alissa Segersten and Tom Malterre, MS, CN!
Ingredients:
4 cups gluten-free sourdough starter, active and bubbly
1/2 cup warm water, + more as needed to achieve desired consistency
2 tsp salt
2 Tbsp extra virgin olive oil
2 Tbsp maple syrup or agave
4 Tbsp ground chia seeds
4 Tbsp whole psyllium husks
1 to 1-3/4 cups teff flour (or any combination of whole grain gluten-free flours
1/4 cup tapioca flour or arrowroot powder
1 cup raw sunflower seeds or other preferred seeds (optional) – try chia, pumpkin, crushed walnut, flax.
Instructions for mixing:
Your sourdough starter needs to be warm and bubbly to start.
Place sourdough starter into a medium mixing bowl or bread maker.
Whisk in the liquids and salt (warm water, salt, olive oil, maple syrup).
Next, whisk in the ground chia and psyllium husks (this replaces gums that bind gluten-free flours, and works very well!).
Then, add the flours. (Avoid letting the mixture sit more than a minute or two, as the chia and psyllium start bulking the dough up quickly!)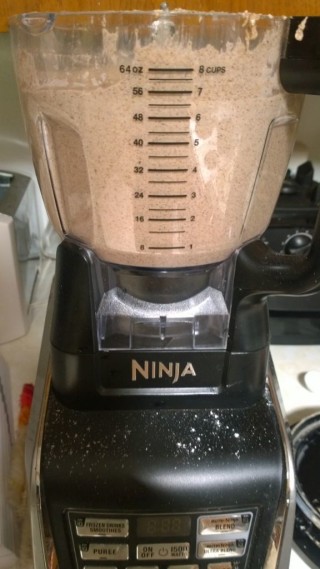 5. Mix them all together with a strong large spoon, or use your food processor.
The dough: enter the Art of Bread-Making
The dough needs to be slightly wet, but still stiff enough to hold a shape. I judge this by how it slides off of my spoon. I look for it to slide slowly and gently off. If it plops off, or doesn't leave the spoon, it needs more warm water. I add 1/4 cup at a time until I achieve a less thick consistency.
If it is runny and doesn't hold a shape or feel sticky, add a little flour. I add 2 tbsp at a time to achieve desired consistency.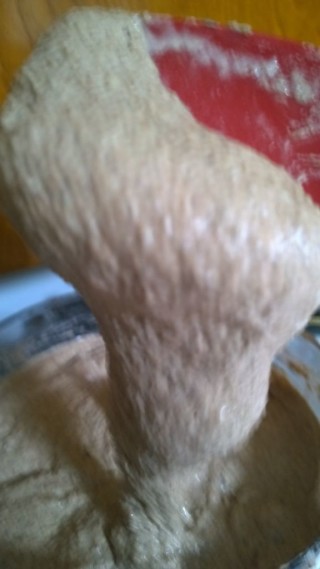 This photo reflects the dough consistency I want to achieve. It is thin enough to drain from the spoon, but it is also still quite thick.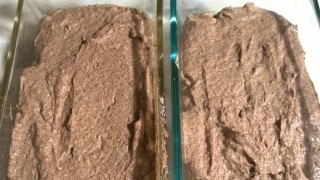 Instructions for baking:
Oil a 9×5 bread pan, or two smaller bread pans.
Place your dough into it, or divide among two pans. Level the bread out.
Cover with parchment paper or a cookie sheet.
Place in a warm place so that it can rise for 3-6 hours. For me, this is near the stove. If the environment is warm, it should rise in about 3 hours. If it's pretty cool, it could take up to 8 hours to rise.  The recipe author suggests placing it on the top of the refrigerator to allow it to double in size. My dough doesn't rise a lot, but it does rise some.
Adding Seeds, Optional:
My favorite seeds are currently sunflower.
Sprinkle them all over your bread dough. I sprinkle mine on by the handful, and just let my eyeballs tell me when I've added enough.
Lightly oil a small piece of parchment paper (make sure it fits your bread pan without too much paper hanging over on the side).
Gently press the parchment over your dough. Your parchment paper should stay down, as this keeps your seeds from burning. If it does not, you can place a cookie sheet over your bread pan to weigh the parchment down (without smashing your bread). This prevents the seeds from burning.
It's time to bake!
Preheat your oven to 375 degrees F. Bake the bread until it reaches an internal temperature of 205 degrees.
If you're baking with seeds
Remove the parchment paper or cookie sheet when your bread reaches 200 degrees internal temperature. You are lightly baking the seeds. You could even turn your oven off at this point. Bake until the bread reaches 205 degrees.
Remove from the oven
Let it cool on your counter for 10-20 minutes. Then remove it from the pan by running a large spatula around the perimeter of the pan to loosen it. Slide the spatula under the bottom of the bread to gently loosen it from the pan. Go slowly, and it will come out. Allow it to continue cooling on a clean cutting board or a wire rack.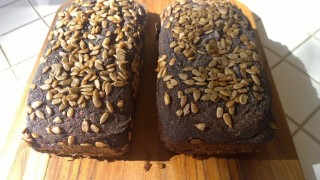 Tip on Storage:
You'll probably find it's easiest if you slice your bread before storing it. It will store nicely in the fridge for a week. Beyond this, I recommend storing it in the freezer.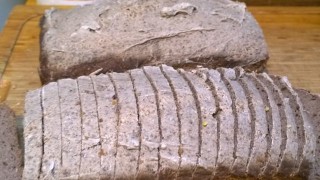 You might also enjoy these posts on teff:
Now, I'd LOVE to hear from you!