Curried Coconut Ginger Soup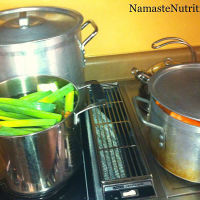 I have a habit of adapting recipes and whimsically add my own touches. A little extra spice here, a veggie substitution there. When it comes to soups, it's all artistic license and little science. My foodie friends affirm that my soups are ah-mazing! Mike thinks my soups are the best he's tasted. This works well for flavor, but makes it a challenge when trying to reproduce a recipe – I never get the exact same product again
So how do I transfer all the whimsical goodies into a recipe for you? After a little research and reflection, I think I've come up with something similar to what I prepared for the prenuptial party. While this recipe won't be an exact rendition, it's close. I think you'll find this is an ah-mazing soup!
One of the best things about any soup is that you rarely need to run to the store for ingredients. I always make soup out of whatever I have on hand. If I have apples, I use them. If I have celery but no potatoes, I use celery. Acorn squash? Done.
Bottom line: don't sweat it. Just use what you have. The exceptions are that you can't substitute orange veggies or fresh ginger. You can always bulk up the soup with a few potatoes.  You can thin it with a little water, broth, coconut milk or orange juice. Everything here is estimated anyway (disclaimer – I really don't know anything!). Plan to adjust the seasonings and thickness according to your taste and availability of ingredients. As with anything in cooking, start with less: less water, less spice.
When I made this soup for the prenuptial party, it was for 80 people. In addition to the ingredients called for below, I used butternut squash. It is a very yummy addition. If you choose to add it, just incorporate extra liquid and spice to make your soup the consistency and flavor you want. Or, you can substitute either carrots or yams for the butternut.  I've included tips for you to confidently substitute ingredients, or to add variety and pizzazz to the recipe.
Keep this soup exciting with variety and pizzazz:
Add a chopped fennel bulb.
Use butternut squash in place of (or in addition to) either carrots or yams.
Add curry powder
Chop a little fresh turmeric and toss it into the saute'
Sprinkle nutmeg over soup before serving.
Add carrot juice into the broth
Top with toasted coconut shreds or toasted nuts
Top with basil, rosemary, or parsley
Add a dollop of plain yogurt when serving
Shortcuts that make your prep a little faster:
Skip peeling the carrots. Just scrub them nicely to remove all the dirt. The skin contains a lot of nutrients, and you probably will not notice the taste difference.
Skip peeling the ginger. Just wash and chop.
Cut large pieces. In this recipe, you are blending the soup anyway. It might take a little longer to cook, but you will enjoy less time prepping the veggies.
Go cook-less: Add ingredients to your crock pot and simmer it while you are away.
Estimated prep time: 20 minutes
Cooking time: 60 minutes
Equipment needed:
Large pot
Vegetable peeler
Sharp knife & cutting board
Blender (I prefer VitaMix)
Ingredients:
10 medium carrots
2 large yams
1 large starchy potato
1 leek, white part only (rinse the dirt from each layer)
2 large cloves garlic, chopped
1/4 cup diced fresh ginger
12-16 oz coconut milk
3 tbsp orange juice concentrate (to taste)
5 + cups water or homemade soup stock
Salt, pepper, lemon juice to taste
Steps to ah-mazing soup:
Heat butter or coconut oil over medium heat in a large pot. Once melted, add garlic, ginger, and leeks. Saute for about 10 minutes, or until aromatic and lightly browned. Add yams, potato, & carrots to large pan. Pour in the broth. Heat over high until it boils. Reduce to a simmer and cook until tender, about an hour. Stir occasionally and keep covered. If the water level drops below the vegetable level, add liquid until veggies are covered.
Puree the soup in a blender, or use a hand blender (this is my favorite technique). After blending, return it to the pot. Add orange juice, coconut milk, lemon juice. Add more broth, juice, or coconut milk if you want to adjust the soup's thickness. Add the rest of the spices. Adjust seasonings to your liking.
Blender tips:
Allow it to cool before transferring into the blender.
You may also need to blend in batches, because it probably won't all fit into your blender.
Using a hand blender is cleaner, easier, and faster than a counter blender. Just sayin' . . . .
Please tell me how you like this soup! Do you have any useful tips for making this soup, such as an alternate ingredient or spice?
xoxo
Cheers,
Frances