Watermelon Salad with Tomato, Basil and Lime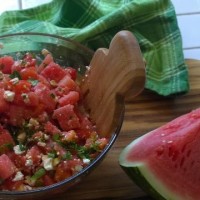 I've returned to a favorite summertime recipe, with a delicious blend of savory, sweet, tang, crunch, and textures that pop in your mouth.
You can make it vegan or Paleo by omitting the feta and increasing the lime juice.
In the summer, I'm usually obsessed with melons, consuming a fresh melon nearly every week. In the winter, I pretty much don't eat them. Like tomatoes and many fruits and vegetables, melons don't really taste good out of season.
This favorite recipe of mine offers an explosion of flavor, antioxidants, and anti-cancer plant chemicals. It's super easy to prepare, too.
I'm not sure which is easier – making it or eating it. But before we dive into the salad, let's take an intellectual moment of appreciation for the food adventure that awaits us.
Reasons to love watermelon (if you need a reason):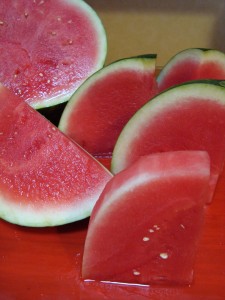 May help lower your risk of colorectal cancer;
When consumed with other foods high in carotenoids, it has proven to reduce risk of prostate cancer;
The lycopene content in 1 cup of watermelon is comparable to the lycopene found in two medium raw tomatoes.
The lycopene in watermelon appears to be more easily absorbed than in raw tomatoes;
The rind stimulates nitric oxide production, which improves circulation in arteries.

Here is my post on how to select a watermelon.
Here is my post on how to eat watermelon rind.
Reasons to love tomatoes:
They are packed with antioxidants and plant chemicals, such as phytosterols, beta-carotene, polyphenols and lycopene. Lycopene is a potent antioxidant, which becomes more absorbable in cooked tomatoes;
The antioxidants also protect your heart with anti-inflammatory properties;
Protect against other cancers, such as cancer of the liver, prostate, colon, and ovarian.
Now, here is how to combine these beautiful plants into a yummy salad.
First, assemble ingredients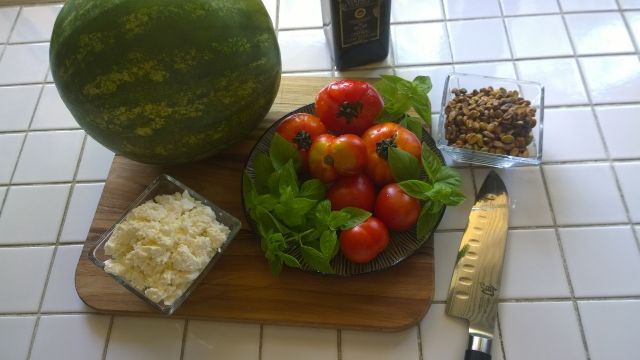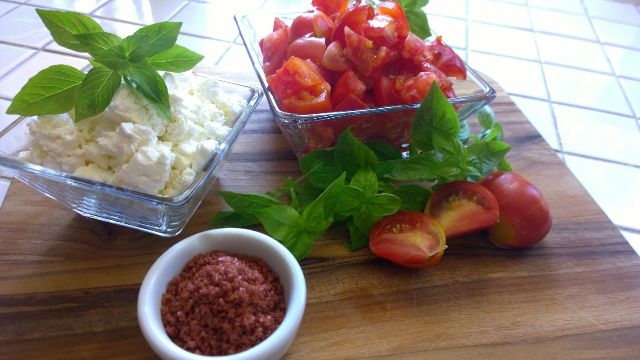 Chop watermelon & tomatoes into chunks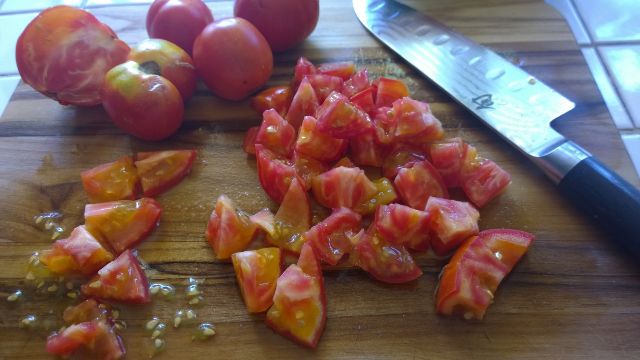 Chop Herbs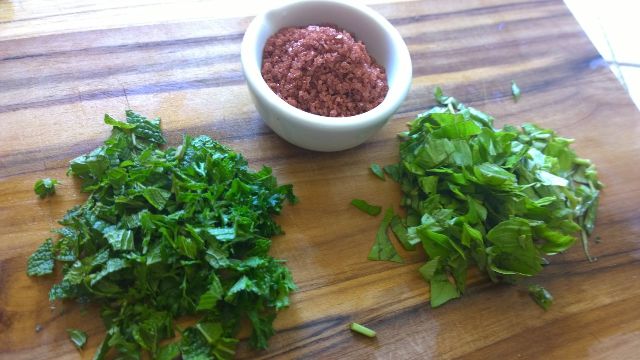 Mix dressing, toss with salad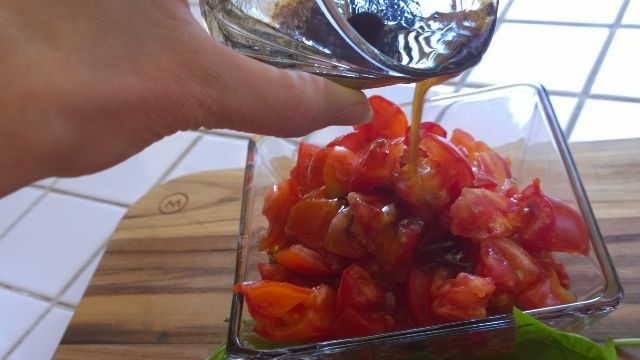 You might find it's easier to lightly toss dressing with tomatoes, then add to watermelon.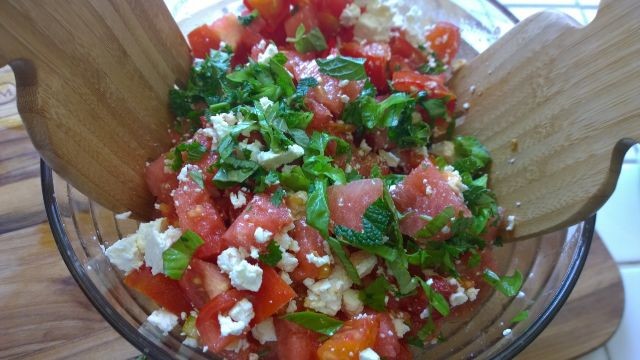 Finally, add your herbs, feta*, and nuts. Toss gently and serve.
*Make it vegan or paleo by omitting the feta. Add 1-2 tbsp more lime or vinegar to enhance flavor.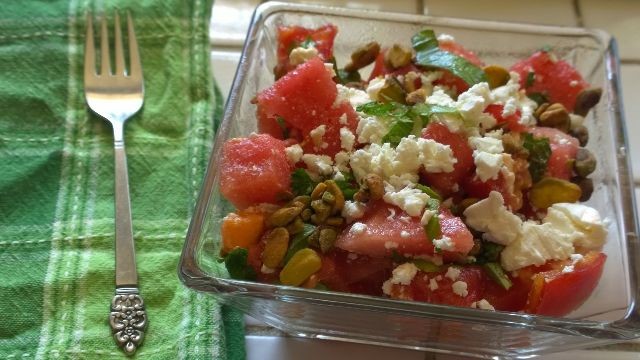 Ingredients:
6 cups seedless watermelon, cut into about 1-inch chunks
1-1/2 cups ripe tomatoes, cut into 1-inch chunks
1/2 tsp large-grain sea salt
4 Tbsp extra virgin olive oil
2 Tbsp balsamic or lime juice
3-4 Tbsp chopped fresh basil, parsley, or mint (or combo of all three)
About 1 cup crumbled feta (OMIT for Vegan or Paleo versions)
3/4 cup roasted pistachios (or any nut of your choosing)
Super Simple Instructions:
In a large bowl, combine melon and tomatoes. You may have leftover melon if it doesn't all fit into your bowl.
Combine salt with oil and vinegar, and pour over melon/tomato mixture.
Sprinkle in the chopped herbs.
Toss melon/tomato mixture to distribute.
To serve, top the salad with feta cheese and pistachios.
If desired, serve melon salad over a bed of fresh arugula.
Give thanks for the colorific abundance and enjoy!
Best if served immediately.
Now I want to hear from you. In the comments below, please tell me how do you enjoy melon? Do you think you'll try this recipe?
Thanks for reading, commenting, and for sharing this post. If you like this post, be sure to sign up for occasional updates on my newsletter! 
Love, love, love,