Would you like some free coaching?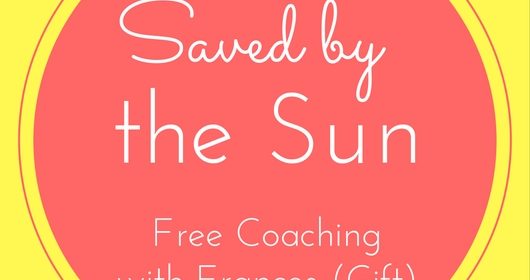 I honestly wanted to retreat to Arizona for the rest of the winter if I had to spend one more week in the soggy, gray weather we endured for months this season.
Did you know that Seattle gets less rain than Chicago? We usually get lots of sun breaks and mostly light drizzles. But this year, the winter rain was oppressive, and the gray weather lasted much longer than anyone could stand.
Finally, our spring sunshine is letting us dry out it's not a moment too soon!
As we remove the winter moss from our pale skin in the Pacific Northwest, we are celebrating the longer days, the sunshine, the peak-a-boo mountains, and fields of flowers. Soon, we'll trade in our webbed toes for mountain boots and boat paddles. Phew!!
What does this mean for you? In celebration of the sun, I'm gifting several 25-minute coaching calls. This is a brand new opportunity for you to join me for your very own one-on-one, personalized call.
I'm calling it "Saved by the Sun Coaching", and it's my gift to YOU.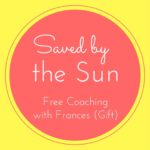 This is a chance for you to bring your most pressing nutrition concern to the table and get coached by me at no charge. It's a bit crazy to give all this time away, right? But I'm really excited about it, and I can't wait to get to know you better!
What you'll get from this call:
Focused attention from me (I normally charge $60 for these sessions);
New insights and strategies as to next steps in addressing your most pressing health concerns;
Clarity and perspective so that you can take inspired action toward resolving your concerns.
This is all on me – no cost to you. Just some good, real conversation that serves you powerfully. (We can get real good stuff done in 25 minutes.) 
Here's how it will go (this offer is for people not currently working with Frances):
You can pick yourself a date & time that works best for you. Here is my online calendar.
You'll complete a brief application here (it is required a minimum of 24 hours before your call).
You'll call me and we'll have a 25 minute chat about whatever is on your mind regarding your health and well-being.
I'll share helpful tips to help you feel better equipped to conquer your challenges.  Since our time is limited, we'll need to be very focused.
This is something I've never offered before. I hope you'll do it while the offer lasts. =0)
I hope to talk with you soon! I'm really excited! =0)
Sending you a big spring hug!