Lightning Quick Pecan-Kale Quesadilla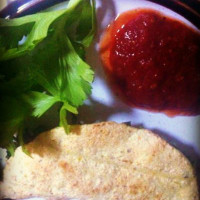 Chronic over-scheduling is a habit I learned in college and am still learning to unlearn this habit. 
Over-commitment also taught me how to be nimble and quick in the kitchen. Sometimes though, "nimble" + "quick" = blackened (burned) sandwiches because I decide that I can throw my clothing on while my sandwich is grilling.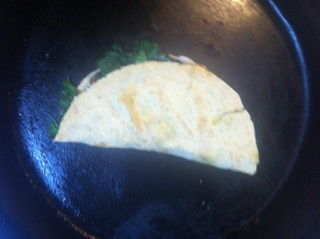 But for the most part, I've learned it wisest not to multi-task while cooking, and if I decide that I must (again, out of compulsive habit), I now mostly choose to multi-task on other kitchen activities so that I am near my cooking foods.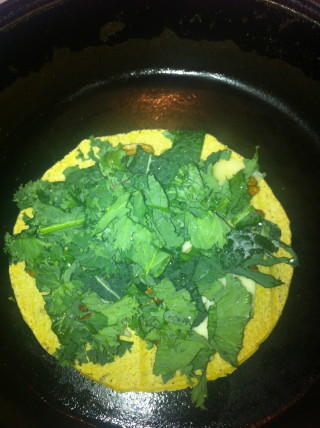 This recipe is a way that you can prepare a quick quesadilla in less than ten minutes (if you don't putz around). You can dress it up with salsa and a large salad or just take it plain and naked with you for a little grab and go goodness.
If you have the room on your griddle, complete both quesadillas at once.
My iron skillet is a little too small for two quesadillas to lay flat side by side, but when I'm hustling, I squeeze them both in together and make it work!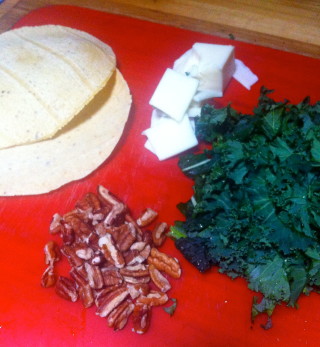 Makes 2 quesadillas.
Try them with this delicious curried butternut apple soup.
Or, try them with one of these super yummy salad ideas.
Ingredients: 
2 organic corn tortillas
2 cups chopped kale
1/2 chopped pecans or walnuts
1/2 cup jack or mozzarella (organic, of course!) – shredded or sliced
Instructions:
Place each corn tortilla on a hot griddle (over medium heat). Pile each tortilla with 1 cup of chopped kale. You'll think this amount of kale is NUTS, but just you wait til you see the shrinkage!
Artistically line your cheese over the kale
Sprinkle each tortilla with 1/4 cup chopped nuts.
Cover pan with lid until kale wilts and cheese melts. Voila! Melts in just a few quick minutes.
Fold over and press down with your spatula to seal the deal.
Serve with salsa and a sprig of celery florette, salad, or whatev. Or, take it naked as a grab 'n go snack.
Know anyone who could use an easy kitchen recipe? Send them this! Thanks for reading.