Herbs for a Natural Weight Loss Program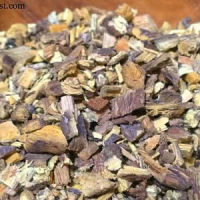 By Rebecca Potter
Are you interested in harnessing medicinal herbs' healing properties for a natural weight loss program? I get asked pretty often which herbs specifically help with weight loss, so let's jump right in and break down this great topic!
The first thing I need to say is that if you are expecting herbs to lose all the weight for you, I need to gently remind you that it takes two to tango. 🙂Herbs will do their part in providing nutrition, strengthening and toning your organs and cells, and cleansing out toxins and waste matter while you do your part by eating healthy food, exercising, and detoxifying your body. The second thing I need to say is that when it comes to herbs, quality is everything, otherwise they just won't work well.  I choose and recommend Dr. Christopher's herbs and formulas for their extremely high quality and safety.
Let's look at herbs that will greatly help your detoxifying efforts. Dr. Christopher's Metaburn Herbal Weight Formula is a very effective combination of nutritive herbs that bind to toxins and waste products in the body and eliminate them. These herbs are: Brigham tea, chickweed, red clover, damiana, juniper berries, catnip, cayenne, oatstraw and senna leaf. In addition to their great detox work, these herbs…wait for it… burn fat and help prevent fat being deposited in the tissues! These biologically active herbs have a very positive effect on the digestive system, the bloodstream, and the metabolic processes overall, helping many people to normalize weight.
Master Herbalist Rebecca Potter unlocks the secrets to a few key #herbal formulas for a natural #weightloss program. http://t.co/KxOQZwNqVc

— Frances Arnold (@FrancesLArnold) January 11, 2014
Up next are herbs that help the adrenal gland and support the metabolism. Dr. Christopher's Adrenal Formula has mullein, licorice root, Siberian ginseng, gotu kola, hawthorn berries, lobelia, ginger root, and cayenne. Licorice root is one of the best herbs for helping to balance the hormones too. Did you know licorice had roots? 🙂 This formula also plays a key role in supporting metabolism through balancing cortisol and Vitamin B5. This vitamin is responsible for burning fats that produce additional energy that help the body deal with stress better. When adopting a holistic weight loss program, it's important to address issues like these.
The Adrenal Formula contains two herbs for the heart, cayenne and hawthorn. When the heart is working overtime due to excess weight on the body, it becomes weak. Hawthorn and cayenne are true heart healers, and they help normalize blood pressure and circulation so the body has improved access to nutrients, oxygenation, and a cleaner bloodstream, all of which greatly aid in weight loss.
Often people who suffer from an improperly functioning thyroid gland will find they gain weight easily, but losing it is quite difficult. Since the thyroid controls metabolism, it definitely follows that the thyroid needs to function properly. Fortunately a wonderful herbal formula, Dr. Christopher's Thyroid Maintenance Formula, contains herbs that are specifically healing for the thyroid gland: kelp, watercress, mullein, parsley, nettle leaves, Irish moss, Iceland moss, and sheep sorrel. Especially if you have an under-active thyroid, the best way to show your thyroid TLC is to make kelp and these other herbs your new best friends.
If you tap into the wondrous powers of herbs, you might be surprised at the new heights you can achieve with their help.
These statements have not been evaluated by the FDA.  These products are not intended to diagnose, treat, cure or prevent any disease.  Anyone suffering from disease or injury should consult with a physician.

Rebecca Potter is a Master Herbalist currently living in Salt Lake City, Utah. She received her bachelor's degree from Brigham Young University and her Master's Degree from The School of Natural Healing. Her journey into natural healing with herbs began in 2004, and she hopes to be a lifelong student of the exciting field of herbalism. She is the coauthor of The Essential Survival Guide to Medical Preparedness along with Julie Behling-Hovdal and Edward Behling.
She feels passionately about sharing her knowledge and experience with herbs with others to empower them to achieve their greatest health potential. A firm believer that the body can achieve wellness through the proper nutrition and herbs, she enjoys sharing education through classes and consultations.