Nutrition for a healthy pregnancy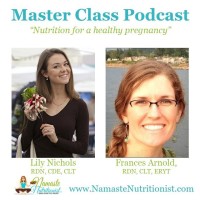 If you're pregnant (or trying to get pregnant), this interview is absolutely necessary for you to hear.
I started working with pregnant and postpartum women in 2008. Lily Nichols shares rare pearls for having the best possible pregnancy in this interview.
Lily Nichols is a nutrition expert in prenatal health and diabetes. She passionately addresses these questions:
What nutrients are critical, both before and during pregnancy

How eating eggs will help your baby's cognition and neurological development

Why organ meats are good for you during pregnancy

What foods can promote pre-eclampsia, premature delivery and other complications

Why you need to eat fatty protein during pregnancy

How you can healthfully address food cravings

 Why too many carbohydrates aren't helping your pregnancy, and how many carbs should you eat during each trimester

What you should consider before getting pregnant

One critical nutrient help regulate our genetics and where you can get it

How to decrease common inflammation that can harm your baby

How sleepiness can tell you about what you're eating

 The difference between Folic acid and Folate, and why this matters
This is an awesome, jam-packed interview. You'll probably want to take notes, or plan to listen to it a couple of times (at least).


 About Lily Nichols, RDN, CDE, CLT:
Lily is a Registered Dietitian/Nutritionist, Certified Diabetes Educator, Certified LEAP Therapist and Certified Pilates Instructor whose approach to nutrition embraces real food, integrative medicine, and mindfulness. She specializes in helping people with digestive issues heal from food sensitivities, supporting pregnant women to have the healthiest pregnancy possible (even if and especially when they have conditions like gestational diabetes), and helping Pilates teachers and students finally lose weight by ditching restrictive dieting habits, indulging in real food, and tuning in to their body's inner cues.
Connect with Lily and grab some of her delicious free recipe book at her website. http://pilatesnutritionist.com/
Podcast: Play in new window | Download