Greek Pasta Salad: Vegetarian, Gluten-Free, High-Protein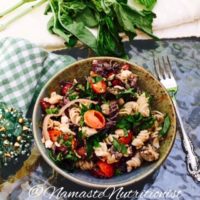 Potlucks inspired this super easy salad. I wanted to bring something easy and tasty, and still need it to be pretty fast and easy. I doubled this salad and had more than enough for three potlucks.
Ingredients
DRESSING:
2 cloves garlic, finely minced
1 teaspoon dried oregano
1 teaspoon Dijon mustard
1/4 cup apple cider vinegar or lemon juice
1/2 teaspoon salt
1/2 teaspoon pepper
1/2 cup olive oil
SALAD:
1 pound gluten free pasta (I used black bean pasta & quinoa pasta)
3/4 medium English cucumber, peeled, halved lengthwise, cut into 1/4-inch pieces
1 dry pint cherry or grape tomatoes, sliced in half
1 medium red onion, thinly sliced
1 cup pitted kalamata olives, halved
6 ounces feta (goat cheese), crumbled
3 cups firmly packed baby spinach or other tender green salad mix
1 can red kidney beans, rinsed (optional for bonus protein)
Preparation
1. Prepare dressing: In a small bowl, whisk together garlic, oregano, mustard, vinegar, salt, pepper and olive oil until well combined. Taste and adjust seasonings as needed.
2. Prepare salad: Bring a large pot of salted water to a boil. Add pasta and cook until done, about 10-12 minutes, or as label describes. (Gluten-free pasta cooks more slowly than wheat pasta.) Drain, rinse under cold water and transfer to a bowl.
3. Add remaining ingredients, toss with dressing. Adjust seasonings.
4. If you have fresh basil, slice the leaves thinly with scissors. Or, top with goat cheese.