About 15 million Americans suffer depression each year, and antidepressants are the most commonly prescribed medications.
Clearly it's an issue that touches so many people. But as an all-natural-kind of gal, I love to see research linking diet with depression. The general idea comes as no surprise, since most of us have learned in experiments with our own bodies that gobs of junk food usually means brain fog, moodiness and general discomfort. The Standard American Diet filled with processed white flours and sugars is abbreviated SAD for good reason. But now there's more scientific proof.
In this podcast, we cover the following:
How food affects other conditions, like ADHD, autism, and other psychiatric disorders;
How the food we eat can affect our mood depression;
Effects of artificial dyes on mood and behavior;
Effects of omega 3s on mood and behavior;
Effects of pesticide on mood and behavior;
Effects of gluten on mood and behavior.
Read the full transcript here.
Improving your diet, and omega 3 supplementation, getting regular exercise, adequate sleep even looking into supplements like Vitamin D make good sense. Daily self-care activities like journaling, meditation, and regularly engaging in pretty much anything that brings you joy are wonderful places to start with common sense preventative medicine. This doesn't, of course, mean that it's a good plan just to pitch your antidepressant and reach for some blueberries and salmon instead and call it a day.
Switching to healthier foods is not a cure for all mood issues, but it is a sensible to promote good mental health and lower the risks of almost all other chronic diseases, too. As we discuss affordable health care in this country, it helps to remember that food can be potent medicine.
Post by Cheryl Harris, MPH, RD (food and mood expert)
Resources mentioned in this podcast:
(Need help downloading the podcast? Click here.)
Who is Cheryl Harris?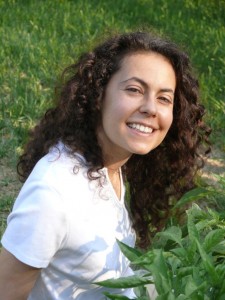 Cheryl Harris, MPH RD was recently selected as the "Emerging Dietetics Leader of the Year" for 2012 for Virginia. She has given presentations on diet and health for the USDA, FDA, the Institute of Medicine,
the Virginia Dietetics Association, numerous groups of nutrition professionals, nurses and a variety of community groups. Her articles have appeared in Today's Dietitian, the Academy of Nutrition and
Dietetics Newsletters and she has been quoted by many media outlets, including the Washington Post, MSNBC.com, WebMD, and the Food Network. She is a regular contributor to the Washingtonian. She is
a Board Member for the Celiac Sprue Association for the Mid-Atlantic region and is the Nutrition Advisor for the DC Metro Celiac Sprue Support Group.
Please visit Cheryl at www.harriswholehealth.com.
Blog:http://www.gfgoodness.com/
Twitter @CherylHarrisRD
Check out Cheryl's sanity retreat
Podcast: Play in new window | Download