Easy Brussels Sprouts with lemon, cumin and ghee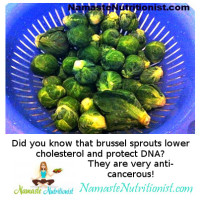 Click here to see my video on how to make this easy and delicious dish.
This recipe is darn tasty, as the Brussels are seasoned with lemon zest, cumin seeds, and ghee (recipe below).
Part of the trick to Brussels sprouts and any Brassica (such as broccoli, cauliflower, cabbage) is to have it properly cooked. If you want to help Brussels sprouts win over a crowd (like your kids, spouse, or yourself), this recipe is the one to try.
Mikey opened my passenger car door for me. He walked around the car, and as soon as he sat in his driver's seat, I asked him, "Something stinks. Did you break wind?"
Mikey shrugged and replied, "Probably. I don't remember." (Dudes are so indifferent.)
I rolled down the window. And then soon rolled it back up when I thought the air cleared. But the stench lingered.
"Mikey, are you okay? Is your stomach upset?"
"No."
Every minute that passed, the smell intensified. My family has always teased me about having an unusually sensitive sniffer, but in this case, I was slightly relieved that I wasn't the only one suffering through this foul-a-riffic moment.
"Mikey, it smells like a baby diaper blowout in here." I've learned from my sister about baby blow-outs. "I'm rethinking our conversation about having kids right now. This is a great form of birth control."
I must admit, I found it impressive how quickly Mike accepted responsibility for the offending smell, even though it clearly wasn't him.
We finally wised up to the culprit: the Brussels sprouts we were bringing to the Seattle Tilth party. Dangit, do not fool yourself into believing that you can take these to a potluck! But you know what? That did not stop us at all. We enjoyed the heck out of them. In fact, they were gone before we could take a single photo of the completed dish!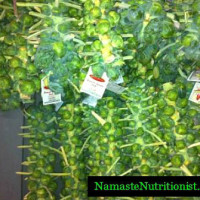 This Brussels sprouts dish was a huge hit.
Mike and I have since made several batches, making this a regular home dish. Mike took some to a potluck recently, and proudly reported back that some of his co-workers exclaimed something to the effect of, "I never knew I liked these before!" Victory. As a dietitian and lover of natural, whole foods, this feedback is puts the pitter-patter into my heart. =-)
RECIPE:
Great served with wild rice or risotto and seasoned, baked fish.
BS = Brussels Sprouts

1 pound or 1 stalk of BS, each sprout removed from the stalk and rinsed thoroughly




Zest of one lemon

1 tsp cumin seed (can substitute with caraway seed)


1-1/2 Tbsp ghee (you may substitute with coconut oil or olive oil)

Kosher salt and freshly ground black pepper
Peel any loose or discolored outer leaves from each sprout. Remove any brown discoloration around the base of sprout. Poke a slit into each sprout so they cook faster.

Bring a large pot of salted water to a boil over high heat. Add BS and cook until tender when pierced (8-10 min). Drain. Return to hot pot.

Add oil, lemon zest, and cumin seed. Season with salt and pepper, to taste. If you are on a low salt diet, season with Mrs. Dash. Stir until well distributed and the oil is melted.

Bless the farmers and farm land.
Brussels sprouts are endlessly versatile. How do you like to make them? Please share with me in the comments. And if you like this post, please share it!
Loving your health and vitality,
Frances