Kale Caesar Salad Recipe (Vegetarian, Vegan, Gluten-Free, Paleo)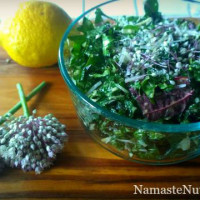 If you still haven't ventured into the delicious world known as kale and chard, let me reassure you: there's a reason for the green food craze!
People often ask me for recipes so they can become familiar, and comfortable, with these greens. This recipe is a delicious way to test out the world of kale and chard.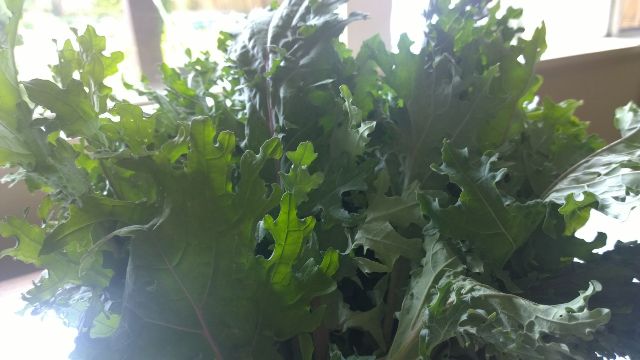 Kale and chard are the new spinach. Both are incredibly good for you (read about that here). Kale has the benefits found in broccoli, cabbage, and radish.  Chard is in the spinach family, and has all the same benefits. All cancer-fighting, youth-promoting. Kale even helps your brain because of the sulfuric compounds.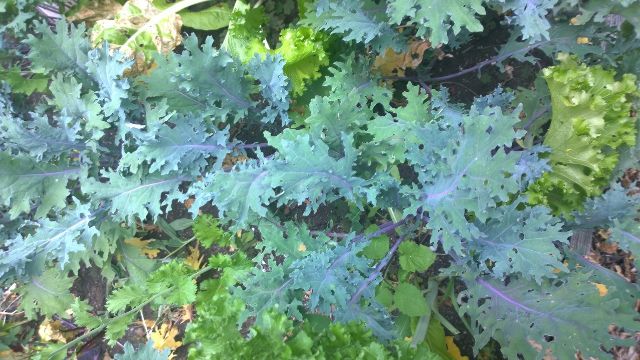 We are bless to have a huge crop of various types of kale this season. In this recipe, I was able to blend two types of kale, chard, and a few amaranth leaves. I didn't go crazy on the amaranth leaves, as I didn't want it to change the recipe too much.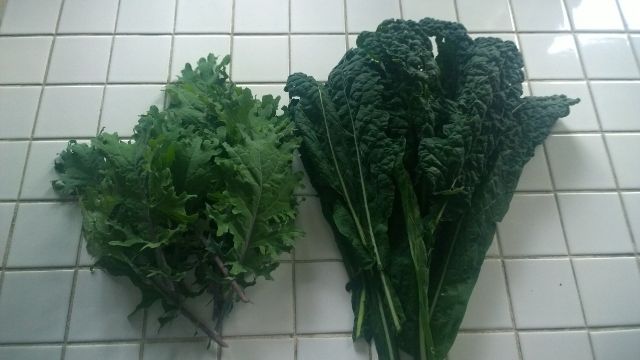 On the left: curly kale. On the right: dino kale. (Side note: You can buy these as starts and easily grow them in a small box or large pot. It feels great to eat what you grow. =0)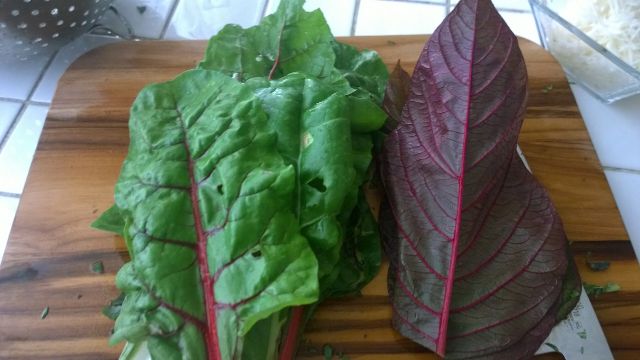 Left: Chard leaves. Right: amaranth leaves
 This recipe is versatile. You won't actually need any amaranth in this recipe. I added it because our garden is going crazy with leafy food! You can use any type of greens you have. Since most grocers now carry either kale, chard, or both, let yourself have the adventure of these greens. If you have access to other greens, like mustard or kohlrabi greens, toss those in here too!
If you're not feeling too adventurous, you can also use regular romaine or spinach.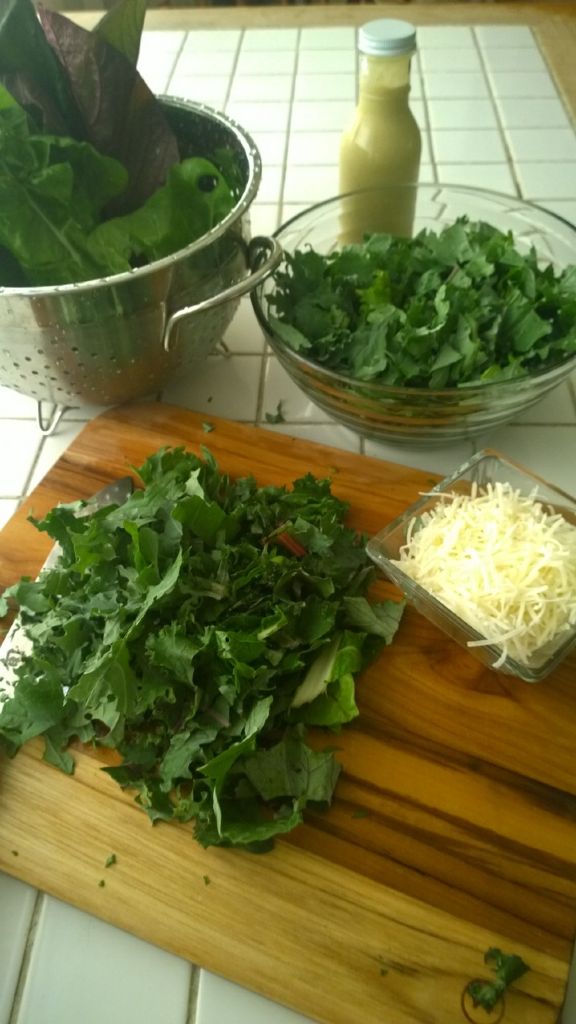 Thoroughly wash your greens. Shake off excess water. Then, chop.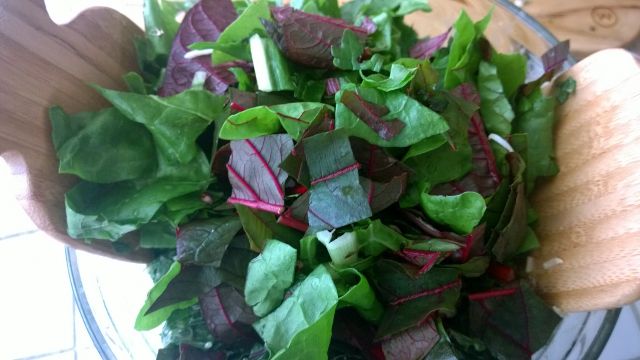 Tell me those greens aren't beautiful. I double dog dare you. ;0)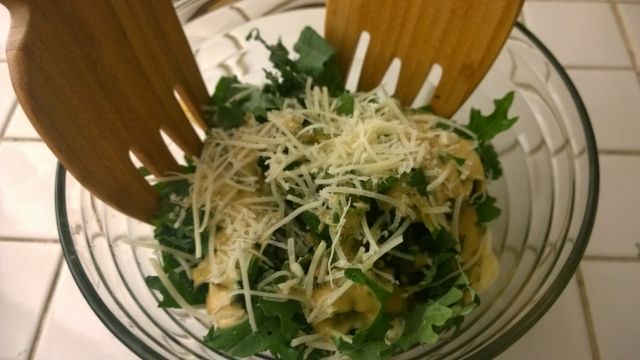 Into the bowl they go! Add half of your greens, dressing & 1/3 of the cheese.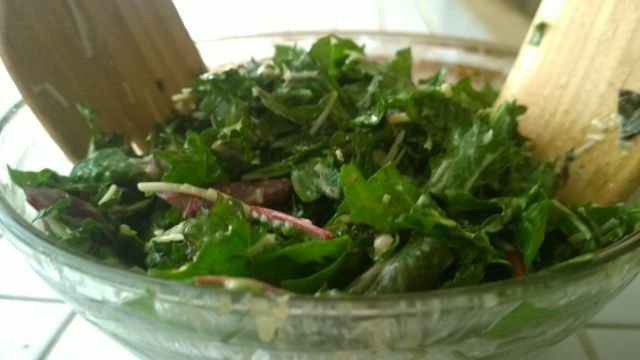 Toss well to coat. The volume of greens will shrink.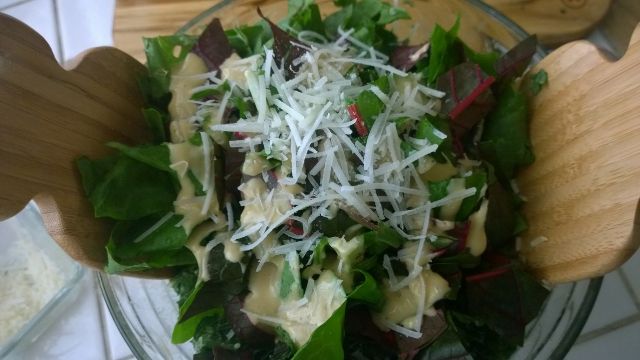 Add the other half of the greens, dressing, 1/3 of the cheese. Toss again. Watch the greens compress.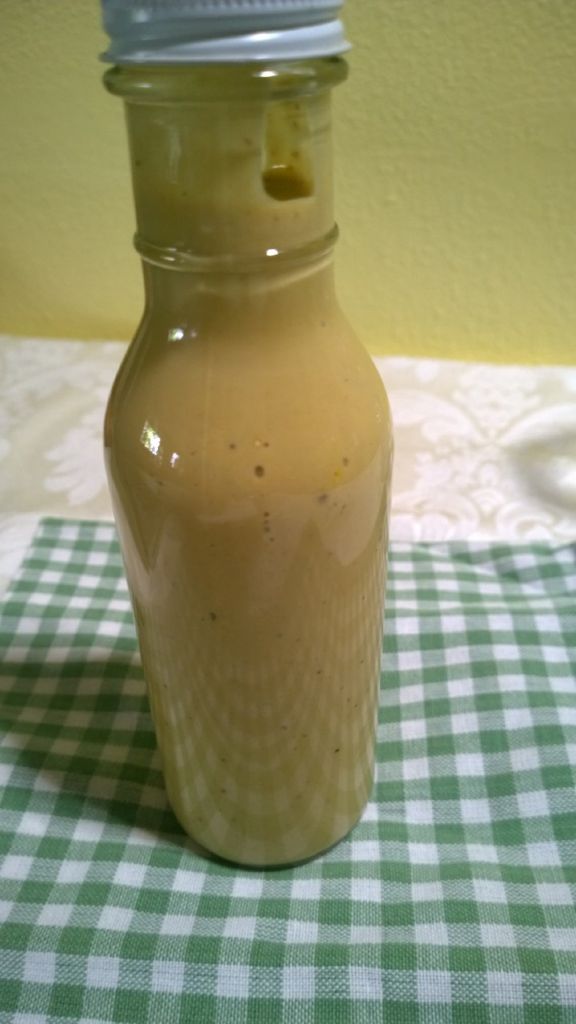 Homemade caesar dressing. It's very inexpensive and wildly easy to make.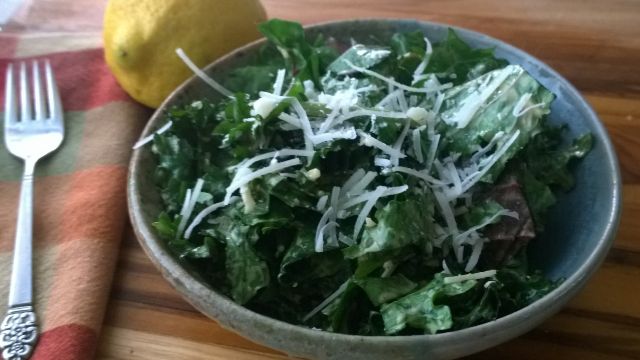 Place in serving bowls. Sprinkle remaining cheese over salad.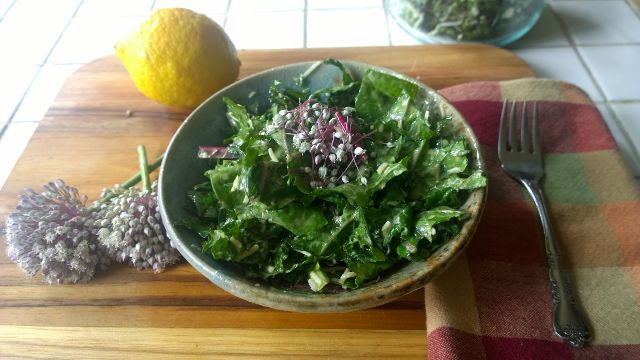 Or, top with onion flower if you "accidentally ate" the rest of the cheese. =0)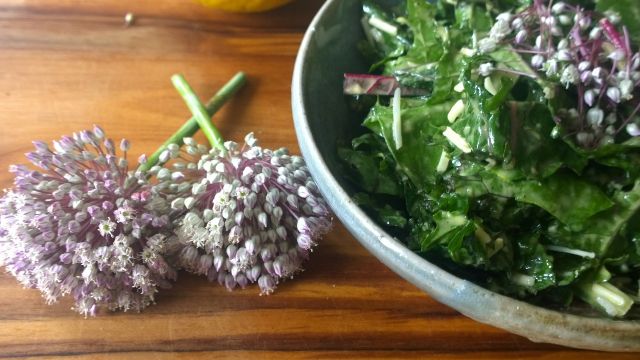 Onion flowers from the garden give a light onion flavor. Did you know these are also edible?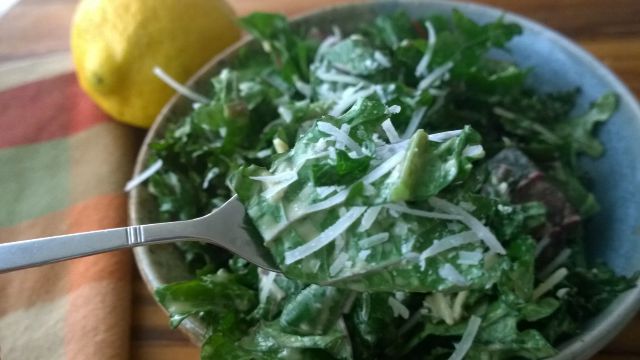 Delicious! Try it with a little sourdough toast.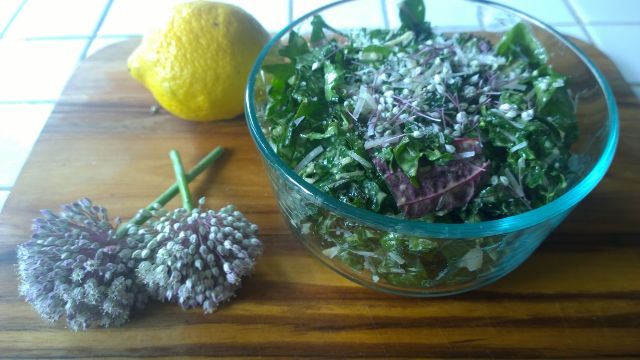 Lasts in the fridge about 2 days (if people somehow resist scarfing it down).
Ready to dive in, foodie friends? Here we go!
Salad Ingredients
1 bunch organic kale – kale is notoriously sprayed with a lot of pesticides

1 bunch chard (or any mashup of greens that you might have available)


1/2 cup shredded Parmesan or Reggiano cheese

Optional: 1/4 cup chopped green onion, chives, or onion flower
Instructions: 
Wash your greens well. Remove the fibrous stems (you can keep the softer portion of the stem. Reserve the stems in your veggie crisper, as they are great in a smoothie, soup, or sauteed.)
Shake off excess water. Chop greens into 1-inch pieces. (Pro tip: stack the leaves. Make long slices from top to bottom of leaves. Then, cut cross-wise, so that you have 1-inch pieces.)
Add greens to a bowl. Add dressing and cheese. Mix thoroughly. If the greens don't all fit in your bowl, mix half of the greens and blend with half of the dressing & cheese. Then add the other half and blend.
Vegan Caesar salad dressing recipe is here
Vegetarian Caesar salad dressing recipe is here
Paleo Caesar Salad dressing recipe is below:
Ingredients
Recipe adapted from AllRecipes.com
4

small garlic cloves, peeled

1 small can

anchovies (or 5 filets)

1/4 cup

olive oil

2 tablespoons

lemon juice

1 teaspoon

Dijon mustard


1 teaspoon

gluten-free

Worcestershire sauce

3/4 cup

mayonnaise

1/4 teaspoon

salt

1/4 teaspoon

freshly ground black pepper
Combine all ingredients into blender. Blend until smooth and well-combined. Adjust spices if needed.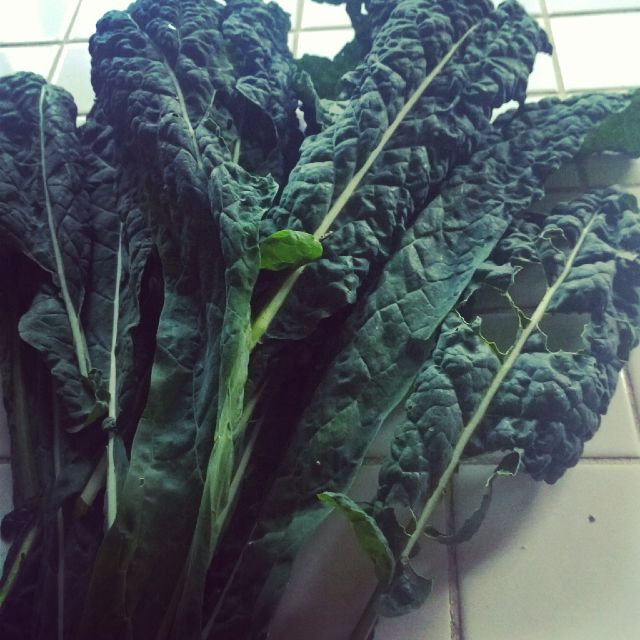 Organic kale. We let the garden bugs and slugs have dinner before having our own. Because we are polite to nature like that.
Let me hear your feedback
Sooooo, what do you think? If you give this a thumbs up, PLEASE SHARE IT. Just push any of those social sharing buttons so that your buddies can have a chance to try something new, too. In the comments, let me know how you eat your greens!
Can I get a "kale yeah?"
Now, go get your nom-nom on,