Beth eagerly volunteered to help me candy flowers this summer for my wedding cupcakes. It was a new experience for both of us, and I think that we were most excited about the novelty of candying flowers.The entire process took us maybe a couple of hours.
Pansies are fun because they are tie-died flowers with little bearded faces. Their bodies are delicate and flimsy, so when they dance easily when a breeze moves through. I started growing pansies from seed last spring, making them an easy choice for candying.  I've enjoyed them all summer in salads, in cupcakes, and soon, in ice cubes.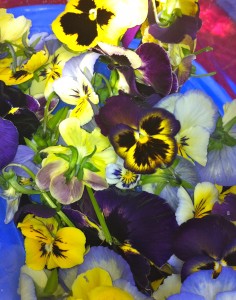 Here is how you can expand your color pallet and enjoy the thrill of eating flowers. I've learned that I can eat dandelions, calendula, honeysuckle and even lillies! Hey, if you haven't enjoyed the succulent crunch of a bright orange lily, you haven't quite lived.
Pansies definitely taste floral, a little bit like the smell of potpourri. I don't think I could binge on them. But the novelty of eating them is sheer delight.
Just be sure that your flowers are organically grown. Commercial flowers are not fit for human consumption due to fertilizers and pesticides in their growing practices.
Edible flowers add charm to melon-, quinoa-, and spinach salads.
Try topping cake, cupcakes, or ice cream with candied pansies. Or, freeze the flowers into ice cubes for adding elegance to lemonade, ice tea and water.
Here are the simple steps to candying pansies. It is waaaay easier and less time consuming than you may think!
Give yourself a couple of hours for the total process, minus the drying, which takes a few hours. The flowers can dry without you giving them a lot of attention.
Step 1:
Recruit a friend who can bring wine or tea.
Step 2:
Heat your oven to ~350 degrees while you prepare your pansies.
Step 3:
Assemble your ingredients and tools.
Ingredients:
Fine sugar for sprinkling onto flowers
1-2 egg whites, lightly beaten
Freshly clipped pansies.

Clip about 2-3 cups of clean pansies, but don't bother washing them. They are too delicate.
Leave at least 1/4″ of its stem for easy handling. You can clip the stem off, if desired, after painting the pansy. Personally, I leave mine on the flower.
Tools:
Very small paintbrushes. (I bought bamboo make-up brushes from Eco Tools. I cleaned them before using. Avoid using paintbrushes that are old, cheap, or harsh.)
Wax paper
Cookie sheets
Clean towels
Step 4:
Turn off the oven, but keep the door closed so that it can stay warm.
Step 5:
Paint egg white lightly onto fronts and backs of pansies.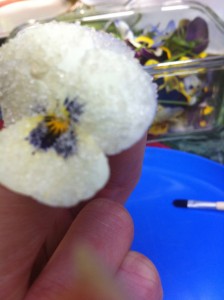 Step 6:
Sprinkle sugar over pansies until lightly coated.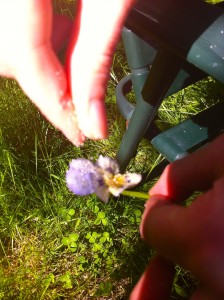 Step 7:

Lay pansies flat, top side facing upward, on cookie sheets. Do not overlap them.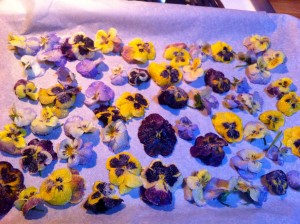 Step 8:

Place pansies into oven. Allow them to dry into crisps, about 2-4 hours. Be sure they do dry completely and aren't soggy.
Step 9:
When the pansies are complete, carefully scrape underneath them with a metal spatula. Take care in this part.
I LOVE to hear from you!
We also have a LOT of calendula in our garden beds. Let me hear from you if you have ideas for processing calendula.
What other ways have you used edible flowers in your food? While many flowers are fit for human consumption, many are not edible. Are there any tips you can share with us regarding safety in choosing edible flowers?
Thanks for reading and for sharing with your friends!
Hugs from a Big Pansy,
Frances