A Registered Dietitian's Concern About Genetically Modified Foods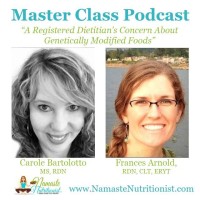 Carole Bartolotto, a respected and seasoned dietitian and Huffington Post blogger, opens up about her concerns regarding Genetically Modified Organisims (GMOs). She made headlines earlier this year after her controversial dismissal from a committee tasked with setting policy on GMOs. The Academy of Nutrition and Dietetics (aka "The Academy") was overdue for updating its policy on GMOs at the time, and to date, still has not accomplished this. Carole was suddenly removed from the committee – without discussion – after pointing out that two of its members had ties to GMO companies.  (Her story made the NY Times here.)
Carole Bartolotto, a respected dietitian and Huffington Post columnist, opens up about her concerns regarding GMOs http://t.co/W0Hl1bXjuC

— Frances Arnold (@FrancesLArnold) October 21, 2013
In her article about the Academy's reflexive dismissal after Carole challenged conflicts of interests among panel members,  Carole wrote "Is the Academy of Nutrition and Dietetics Committed to Telling Americans the Truth About Genetically Modified Foods?" for the Huffington Post:
. . . Is it appropriate to have people involved with the biotech industry, which could benefit from the outcome, sit on a biotech-related work group? I don't think so. Additionally, I found it alarming that the Academy was intent on moving forward with a position paper, written by Christine M. Bruhn, PhD, to be published before the evidence review was complete. She wrote the Academy's 2006 position paper, which said that GMOs "…enhance the quality, safety, nutritional value, and variety of food available for human consumption and increase the efficacy of food production, processing, food distribution, and environmental and waste management." I am guessing her 2013 version will offer up more of the same.

Sadly, it is the American people who are the losers in this situation because they will probably not get clear, unbiased and balanced information about what to eat from the organization that represents the largest group of nutrition-related health professionals in the country.
The Academy is the world's largest organization of food and nutrition professionals, and is criticized by many dietitians for its questionable sponsorships from junk food companies such as Pepsi, Coca-Cola, and General Mills. The Academy is expected to update their position on GMOs sometime this year (2013). As of this publication, the Academy still has not released its position statement about GMOs. We'll find out if it dishes up favortism for GMO foods or not.
In this passionate interview, I ask Carole to address the following:
Tell us about your story with the Academy suddenly dismissing you from its volunteer committee
How did the Academy address conflict of interest with GMOs?
How does the FDA approve GMOs (it is considered Generally Recognized as Safe)?
What are you hearing about patients regarding GMOs (anecdotal, Elle story)?
What noteworthy tactics have you seen used by the opposition?
What can you tell us about our food supply being contaminated?
Health impacts of GMOs – can you talk about the studies?
What do you see happening in the future of GMO?
Resources mentioned in this podcast:
Dietitians for Professional Integrity: a group of concerned dietetics professionals advocating for greater financial transparency, as well as ethical, socially responsible, and relevant corporate sponsorships within the Academy of Nutrition and Dietetics.
Articles:
Phone Apps to help you avoid GMO::
Ten apps to help you eat GMO free (resource list)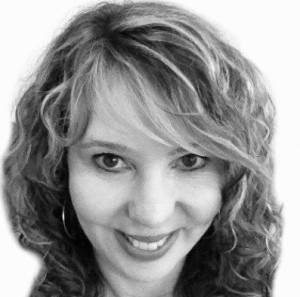 Carole Bartolotto is a registered dietitian with a master's degree in exercise physiology. She worked in the field of diet and health for over 20 years. She likes to stay on top of the latest research and translate it into actionable steps that can transform your health.
 She has written publications and articles about a variety of nutrition topics, and has spoken at many conferences and symposia on a myriad of health topics.
As a child she saw the impact of a poor diet on the health of her family and thought there must be a better way than drugs and surgery. She has also struggled with her own health issues which has deepened her interest in diet and its impact on health. Her belief was, and still is, that what you eat each day can have a profound effect on your health, and is the key for both prevention and treatment of most chronic health conditions.
Where to find Carole Bartolloto:
Blog: http://www.HealthyEatingRocks.com
Huffington Post: http://www.huffingtonpost.com/carole-bartolotto/
Facebook: http://www.facebook.com/CaroleBartolottoMaRdRegisteredDietitian
Podcast: Play in new window | Download