Awakening the Warrior Within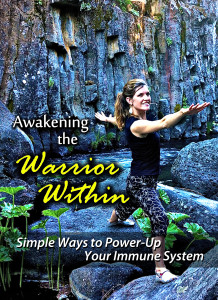 Hooray! Congratulations on saying YES! to  your immune system. If you don't see an email from "info@namastenutritionist.com", check your junk or spam folder.
Your immune system download will be waiting for you there. =-)
*REALLY IMPORTANT:* Be sure to confirm your subscription by going to your email inbox.

If you are wondering how to uncover and address hidden sensitivities, you may want to explore how I can help you. You can learn more here: http://namastenutritionist.com/work with-frances-arnold/
I can't wait to see how this book helps you!
Be sure to confirm your subscription in your email.
I'm excited that we are connected!
Sending BIG HUGS,
Frances
Namaste Nutritionist
Contact
Edmonds, Washington, USA
Snohomish County Integrative Registered Dietitian & Nutritionist
Experienced Registered Yoga Instructor (ERYT)
Phone number:  206-486-5108
Namaste Nutritionist, LLC 2013